Wondering how much Good American is worth and if you should splurge on a pair of their jeans? Let's discuss all there is to know.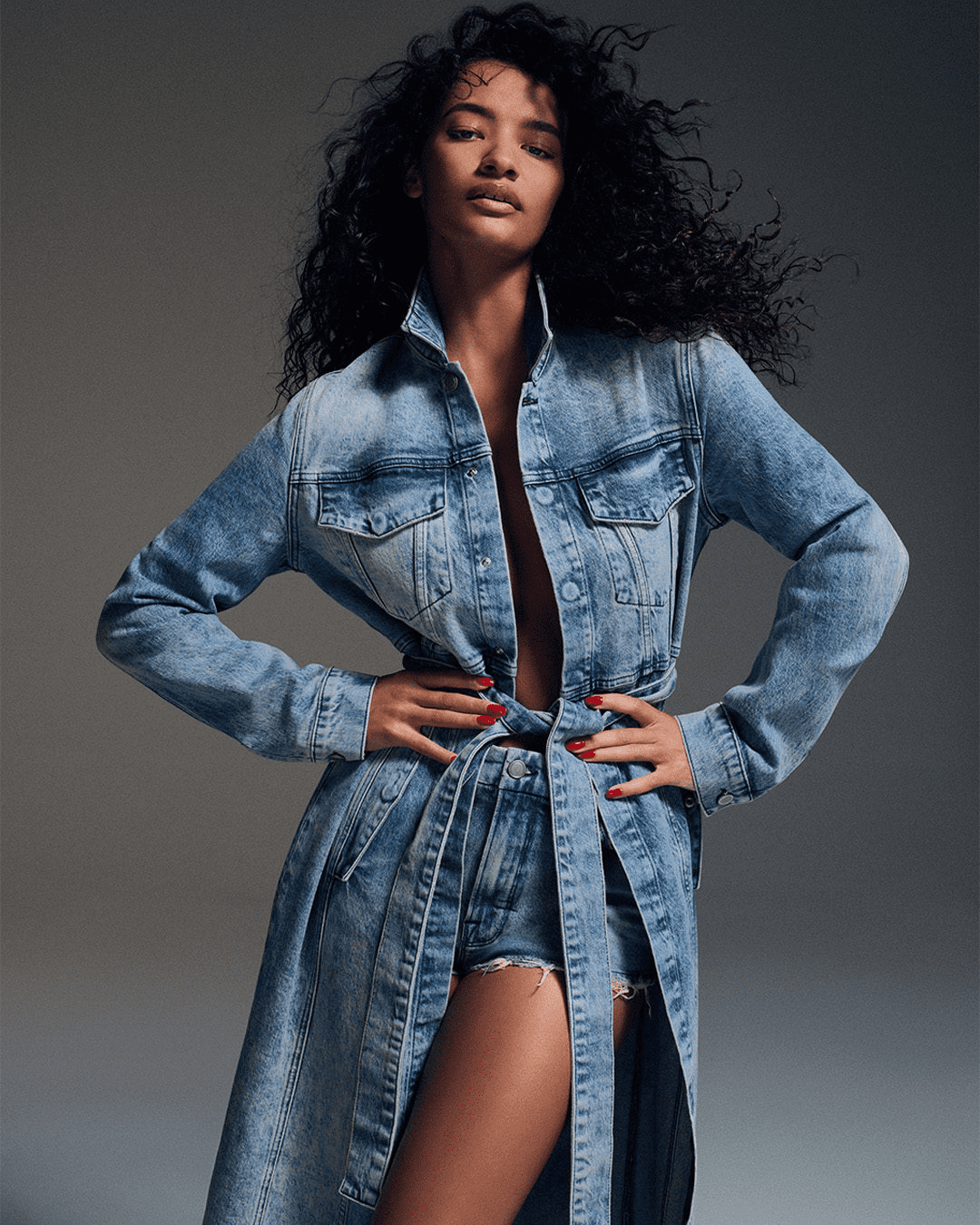 Main image courtesy of Good American.
When you think of a company that makes amazing jeans, Good American might come to mind. Before they were on the fashion scene, unless you were a certain size, chances are your jeans didn't fit the way you wanted. Most companies offer only a few sizes, so what were you supposed to do if you couldn't find your size in some sexy, stylish jeans? Or what if the jeans just didn't show off your curves the way you wished? Well thankfully Good American was started to help alleviate these common concerns of a lot of women.
They've made it a point to have all kinds of sizes, ranging from 0 to 32 plus. Because no two bodies are alike! Good American aims to help all women feel confident and gorgeous in their styles, and most importantly, in their size.
But who owns Good American and are their jeans worth the price? Can you get them at a discount? Glad you asked because in this article, we're going to discuss:
Who is behind Good American, and how much is this company worth?
Where does Good American make their clothing?
Are their jeans worth the hefty price tag?
Where to get Good American jeans
Get your next favorite pair of Good American jeans at any of these locations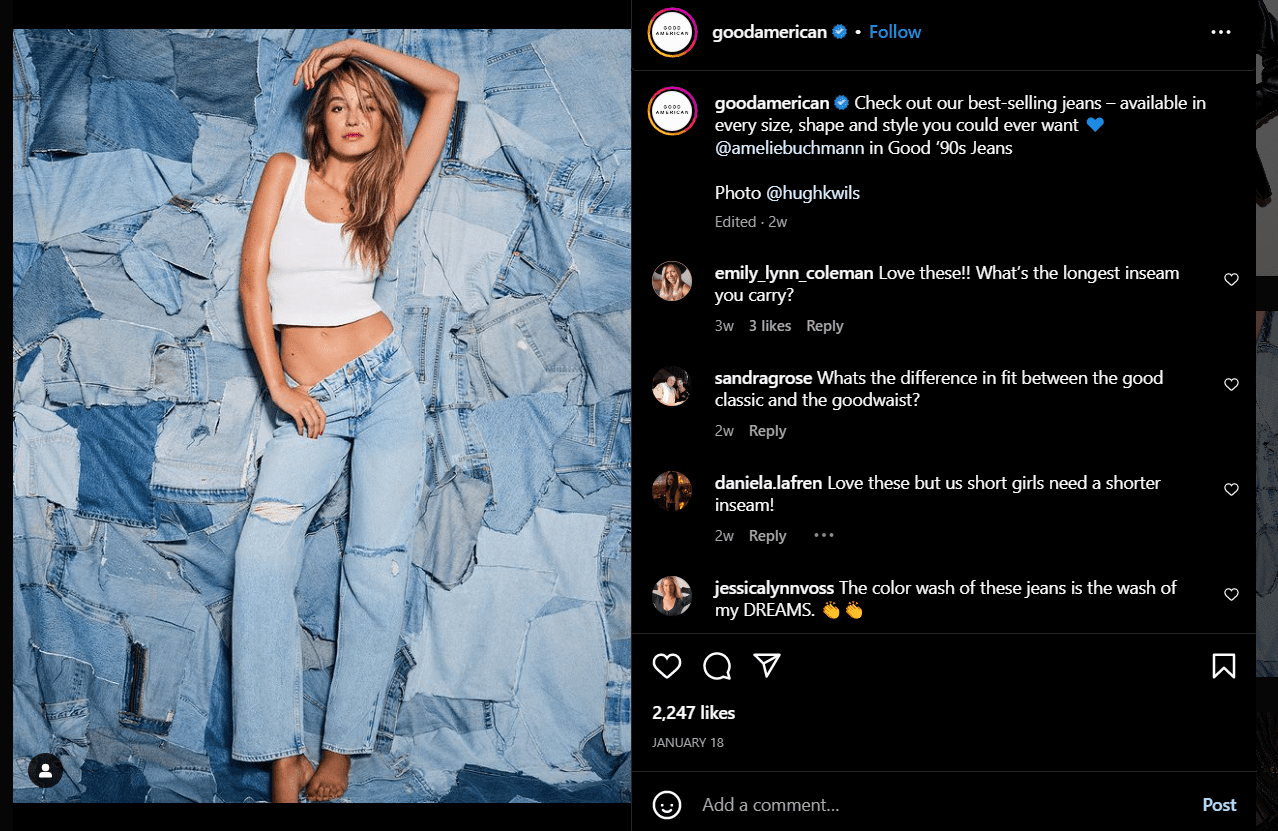 https://www.instagram.com/p/CnkD7l3ph3q/
You can always check out the Good American website for all the latest collections and designs, not only in denim, but also tops, shoes, swimwear, outerwear, sweats, and tanks. You'll also find a dedicated tab for all their sale items that have been marked at a discount. This is a great way to experience Good American for yourself, without paying full price.
You can also check out Shopbop for Good American items at a discounted price. This is your one stop shop for all things Good American, whether you're looking for jeans, a cool new swimsuit, or a bodysuit. Good American items can be pricey, which is why it's always nice to score some of their quality items on sale.
Additionally, you can find Good American at these retailers:
Nordstrom
Neiman Marcus
Bloomingdale's
Saks Fifth Avenue
Evereve
Anthropologie
And if you're shopping resale, sites like Poshmark and ThredUp also carry Good American items, but you're looking for something in particular, you'll need to check back often as their inventory is always changing.
Who owns Good American?
Who are the women behind the Good American brand?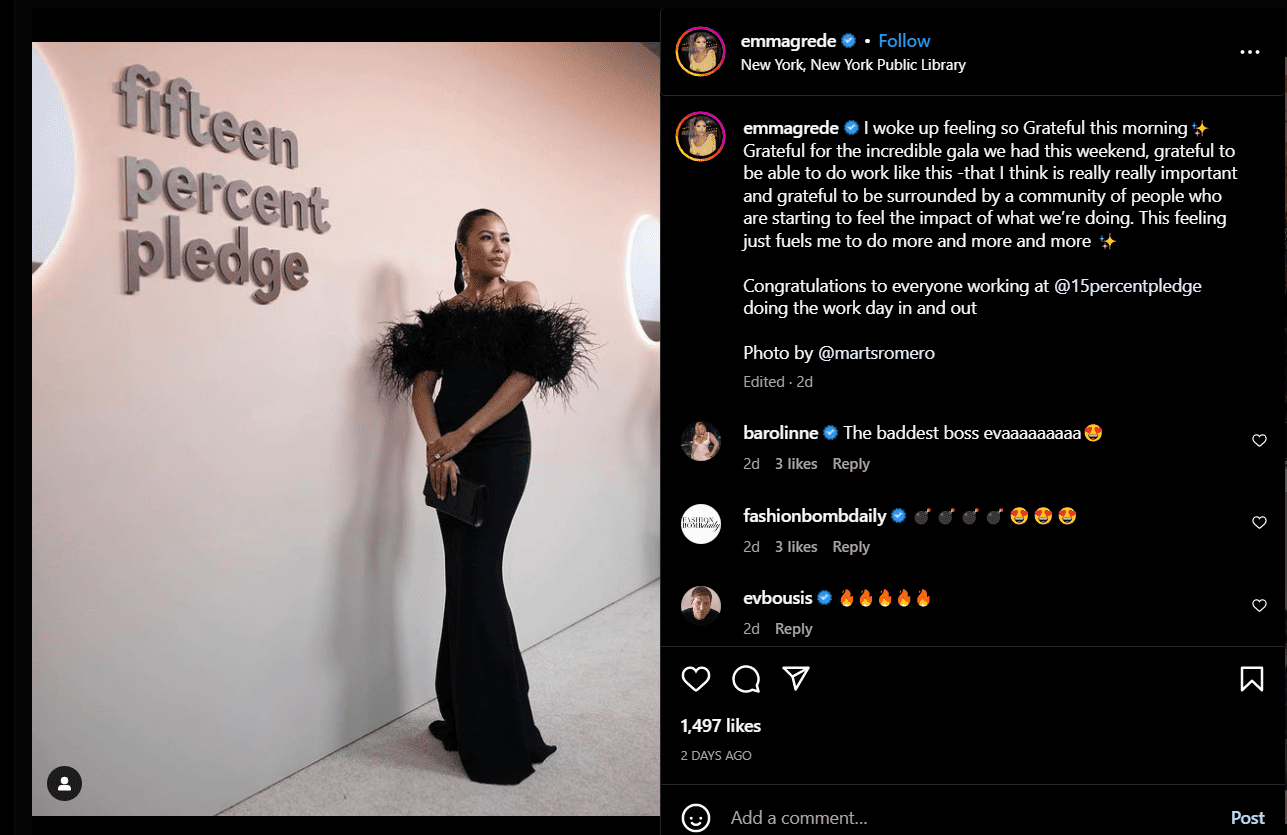 https://www.instagram.com/p/CoU9z6fJU_J/
Good American was founded by Emma Grede with Khloe Kardashian in 2016, who both envisioned a brand that offered amazing, stylish clothing to women of all sizes. They took a look at the fashion industry and its lack of inclusivity for women who didn't fit the traditional sizing model, and decided to do something about it. The result was one of the most successful business launches, as women all over the world flocked to get their hands on high quality clothing that made them feel confident in their own skin.
Emma also helped launch Kim Kardashian West's line of shapewear and loungewear, Skims, which has also been very successful in its own right. Additionally, this entrepreneur was also involved in the successful launch of a plant-based cleaning company that features chemical free cleaning products.
Khloe Kardashian is the co-founder of Good American, and collaborated with Emma to start a fashion brand that focused on inclusivity and empowering women. Khloe is no stranger to being in charge, as she was executive producer on Keeping up with the Kardashians and has authored a book on her fitness and nutrition journey.
How much is Good American worth?
The Good American company is very successful, as women really respond to the variety of sizes and models that show the clothing both on the site, and on their social media accounts. Seeing women of all shapes, sizes, and colors reinforces the brand's commitment to inclusivity, and when stacked against what other brands offer, there's really no comparison.
It's hard to pin down the exact net worth of Good American, but some sources suggest that it's around $7.65 million.
Where is Good American made?
Originally, Good American jeans were made right here in the U.S. (Los Angeles), as you would assume from the name of the brand. Customers loved that they were keeping production in the U.S. and giving workers here a job. This justified the expensive cost of the jeans, and women were willing to spend more if it meant keeping production here. However, in 2018, the company changed course and stated on social media that items would no longer be 100% produced in the U.S.
Many products are now outsourced and made in other countries, including Turkey, which is controversial due to the Armenian heritage of the Kardashians. Some fans were upset at the change in direction, especially since one of the principles the brand was founded on was that their apparel would be produced in the U.S.
Why are Good American jeans so expensive?
What makes these jeans so pricey?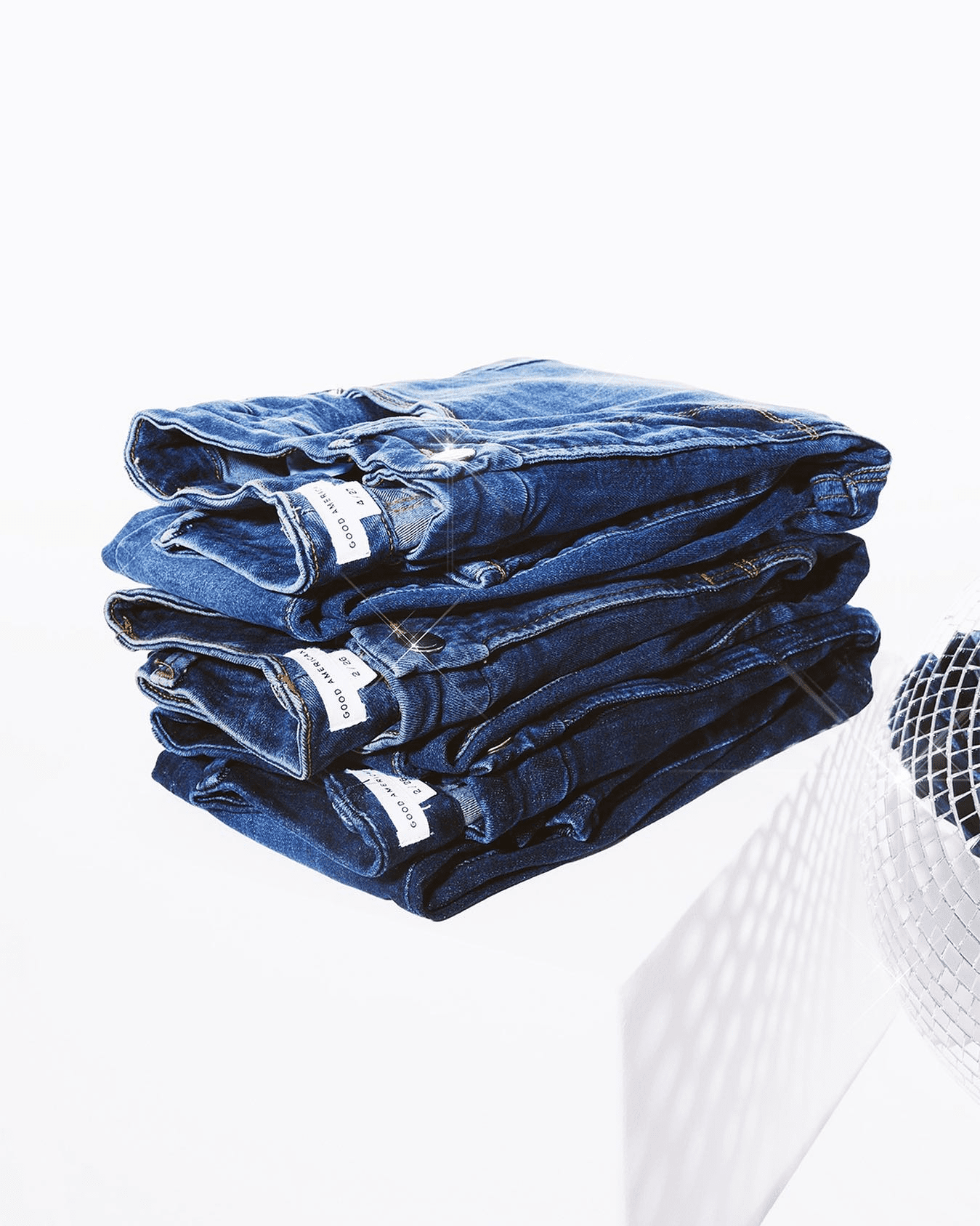 Well made clothing is often on the more expensive side. Image courtesy of Good American.
Good American jeans are considered designer jeans, so you can expect them to command a higher price point. But why exactly are they so expensive? The materials used in the construction of all their clothes (not just jeans) is a large part behind their price. High quality fabrics that are designed to last are going to cost more than material that will wear out quickly. The jeans also have features like reinforced belt loops, which can also increase the price.
While the upfront cost is more, you're going to get a lot more use out of Good American jeans than a cheaper pair. Quality, well-made denim will last for years, and still hold up after countless wears and washes. And jeans made out of poorer quality materials will not last as long, forcing you to purchase additional pairs anyway!
Is Good American worth it?
This is up to you, and if you think investing in a well-made pair of jeans (that are designed to help you feel confident and stylish) is worth your while. If you've been struggling to find a pair of jeans that actually fit you, this could be a great brand to try. There are all kinds of different jeans styles that offer varying levels of stretch, so even if you think you've tried all there is, why not give them a chance? You might just find your next pair of jeans that you can't do without!
Our favorite Good American jeans
Consider trying out these popular styles!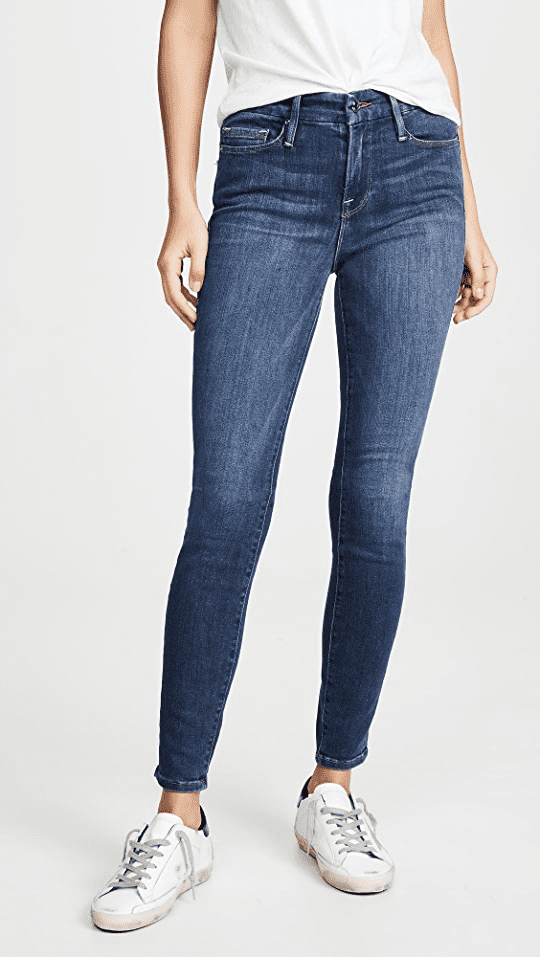 This classic, basic skinny jean goes with everything in your wardrobe. Image courtesy of Shopbop.
If you've searched high and low for the perfect pair of skinny jeans, you've got to try Good Legs Skinny Jean before you give up. This classic denim has a mid rise and skinny leg, and is perfect for both day and night occasions. Whether you need a solid pair of jeans to pair with a casual sweater and top on the weekends, or are looking for something a little more vampy to wear with heels and a bodysuit, these jeans do both effortlessly.
The classic blue look will have you reaching for these skinny jeans each time, and their ankle length, five pockets, and slight fading are sure to match anything in your wardrobe.
Snag these Good American jeans on sale at Shopbop!
Good Legs crop mini bootcut jeans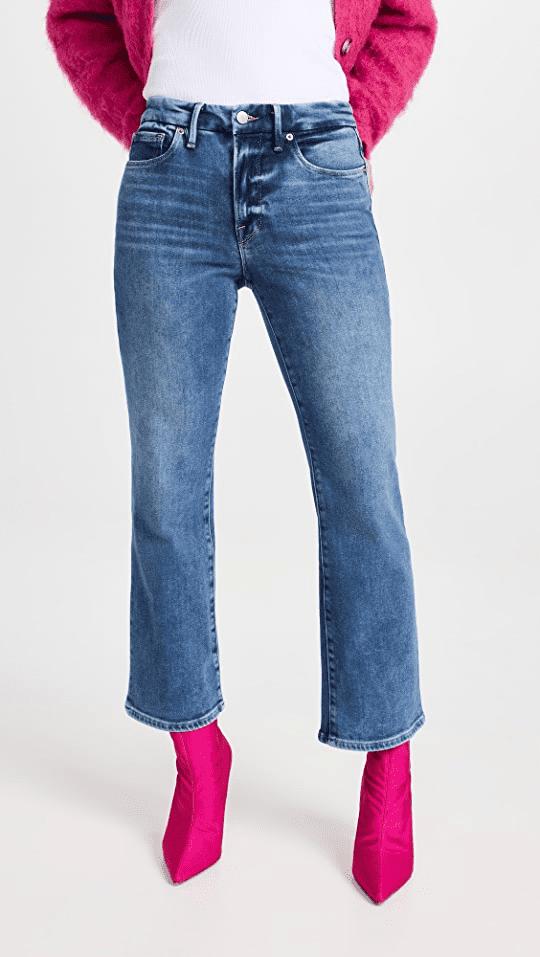 Bootcut jeans pair easily with all kinds of shoes! Image courtesy of Shopbop.
Looking to stay on-trend no matter what the season is? Then you should check out these Good Legs crop mini bootcut jeans from Good American. These are mid rise, slim fit, bootcut jeans that are made out of heavyweight stretch denim with stylish fading and whiskering. The bootcut, cropped style is perfect with boots, heels, or sandals, ensuring you're always looking on point. With a flare silhouette, five pockets, and reinforced belt loops, no matter if you dress them up or down, they'll always be your go-to jeans.
Head over to Shopbop and pick up these stylish Good American jeans on sale now!
Good 90s jeans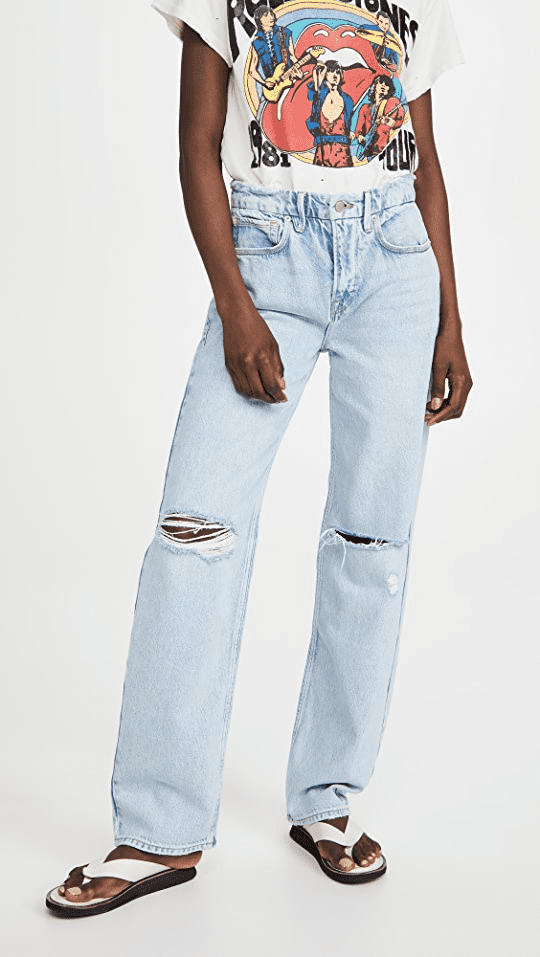 Channel your inner 90s kid with these comfy jeans. Image courtesy of Shopbop.
Looking for that perfect retro look in your next pair of jeans? Look no further than the Good 90s jeans. Drawing inspiration from the relaxed look that was so popular during the 1990s, these jeans are both comfortable and stylish. The faded blue color is just perfect, and will match anything from your favorite Guns and Roses tee for a casual look, or with a black crop top for a fun date night.
The heavyweight non stretch denim is lightly frayed and boasts of a high waist and five functional pockets. Make sure to head over to Shopbop and grab this pair of jeans on sale before they're gone!
Good American is a popular clothing company because they offer a well-made product that's designed to fit women of all sizes. This inclusivity is one of the reasons they've been so successful over the years!