With their love for the coast and crystal waters, it seemed like it was truly meant to be that Bobby and Leah's wedding would have a nautical theme. Navy blues and pristine whites dominated the color scheme with lovely accents of red or coral here and there. I particularly adore this in the men's attire — their matching nautical socks go really well with their dapper suits and captain's hat! I love that you don't need to use any liner socks or anything that takes away from the pretty fitting pair of socks!
The ladies looked as amazing in their matching blue and white dresses. Leah was absolutely stunning in her mermaid-style wedding gown (perfect wedding gown considering their theme, don't you think?)
Read about their story and wedding below in the words of their excellent photographer. Congratulations, Bobby and Leah! We wish you all the best as you set sail on your life as a married couple.
The Album Story:
Acquiring his doctorate at the University of South Carolina brought Bobby to South Carolina from his hometown of Indianapolis, Indiana. Bobby and Leah met on St. Patrick's Day 2012 in downtown Greenville, SC. They enjoy taking vacations in the low country and have an affinity for the coast. Therefore, Charleston seemed like the perfect location for their nuptials. While Bobby is originally from Indianapolis, IN, both bride and groom had a large portion of the family and friends coming from out of town including: Indianapolis, IN, Tuscan, AZ and Cleveland, OH.
They wanted a "destination wedding" feel and chose Memorial Day weekend so guests could enjoy the many riches and culture that Charleston and the Low Country has to offer. For many, this was their first trip to South Carolina! The day began with the boys relaxing at Old South Barber Spa with an old-fashioned blade shave and hot towel facial. The ladies enjoyed mimosas in their bridal suite at The Residence Inn Riverview while having their hair styled and makeup applied. The ceremony began at 2 o'clock in the afternoon, followed by pictures down the road on the fisherman dock at James Island County Park.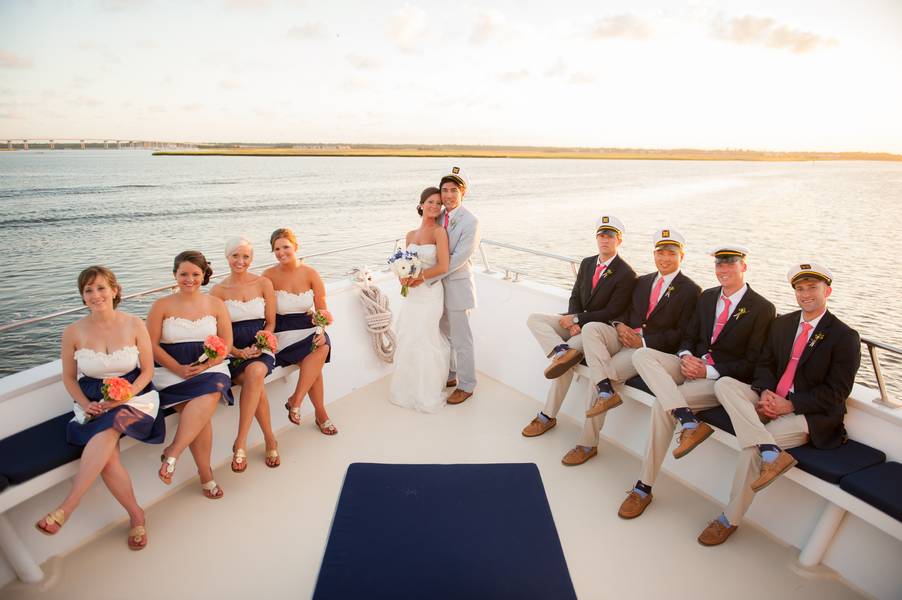 The reception followed at 6 pm starting with cocktails and southern passed hors d'oeuvres (petite crab cakes with remoulade sauce, pimento cheese fried green tomato wedges, and fried chicken & waffle sliders), followed by a buffet style dinner. After their introduction, the bride and groom danced to Ed Sheeran's "Thinking Out Loud" and danced the night away to music provided by the DJ, Mr. Bobby Clair of The Carolina Girl Yacht.
The end of the night finished with a bubble exit as the bride and groom left for their stay at the Francis Marion Hotel on King Street. They took an immediate, small honeymoon to Grove Park Inn in Asheville, NC followed by a weeklong honeymoon in La Jolla, Los Angeles, Laguna Beach, and Santa Barbara, CA in late October.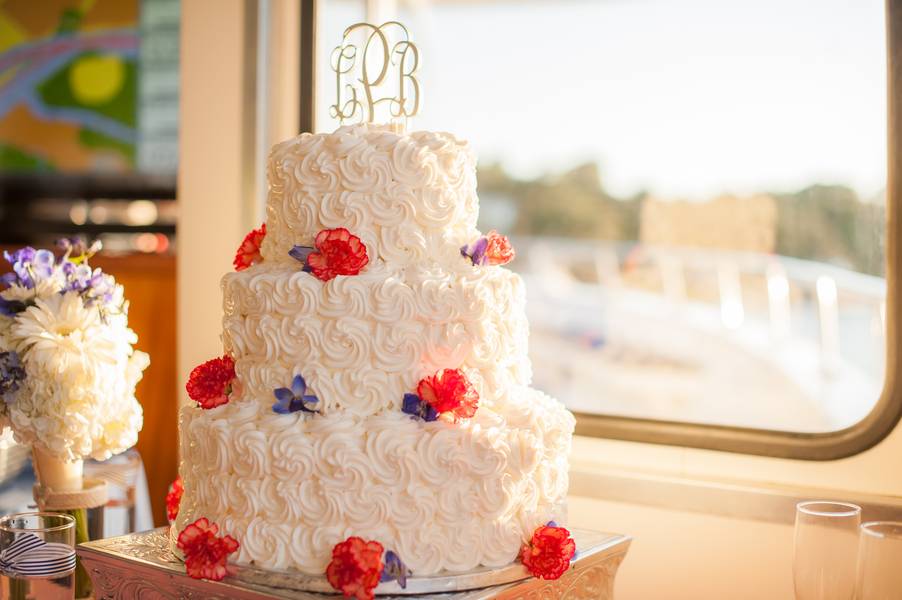 Bobby, an alumni of Indiana University and the University of South Carolina, is a home health physical therapist with Gentiva in Union, SC and has a passion for golf (see the golf tee boutonnières). Leah, who has live in South Carolina since the age of 3, is a graduate of the University of South Carolina and is a microbiology technician at Bausch + Lomb in Greenville, SC. She enjoys baking, crafting, photography, and anything nautical (hence, their nautical themed wedding). Together, they both share a love for southern cuisine and craft beer. With help from Terrapin Brewery, they featured a crafted "wedding ale" made specifically for our special event as a wedding favor to their guests! Bobby and Leah currently reside in Simpsonville, South Carolina with their cat, Nougat.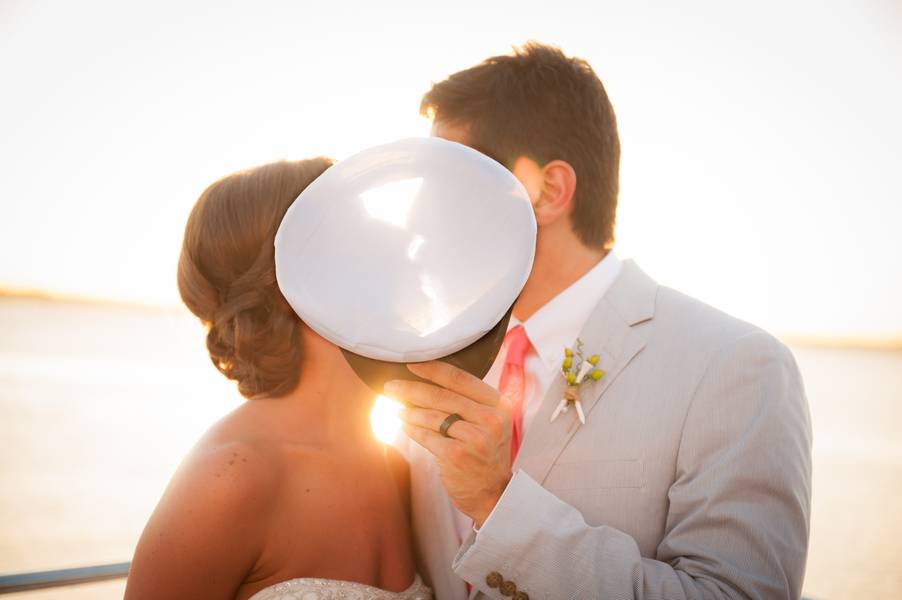 VENDORS
Photographer: Southern Jewel Photography
Hair Stylist: Augusta Place Salon
Bridesmaid Dresses: Bella Bridesmaid
Reception Venue: Carolina Girl Yacht
Jewelry: Diamonds Direct Southpark
Caterer: Hamby Catering & Events
Tuxedo and Mens Attire: Nautica
Bakery: Publix Bakery
Shoes: Sperry Top Siders
Floral Designer: Wedding Flowers by Lisa Ferguson